This post is part of a series on my visit to Osaka while on holiday in Japan during October 2009. If you haven't read the first part, that's here: Japan Day 1 pt. 1 - Namba Yasaka Shrine.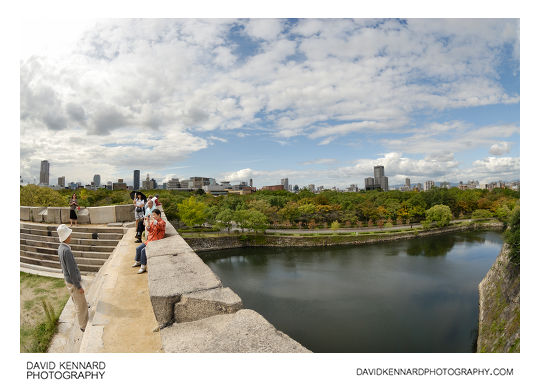 Behind the main tower of Osaka Castle is an area with steps up to the wall above the inner moat. You can get quite a nice view to the north-west from here. The areas cut into the fortifications for shooting out at attackers make good seats.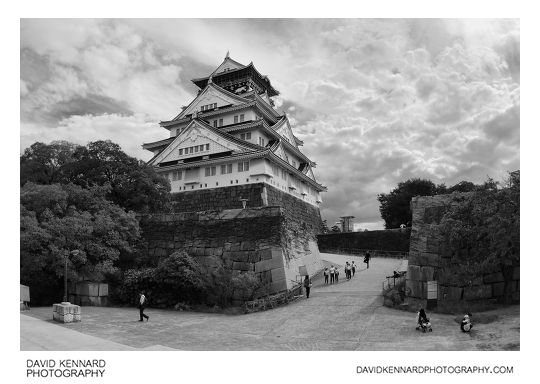 Looking back the other way is the main castle keep.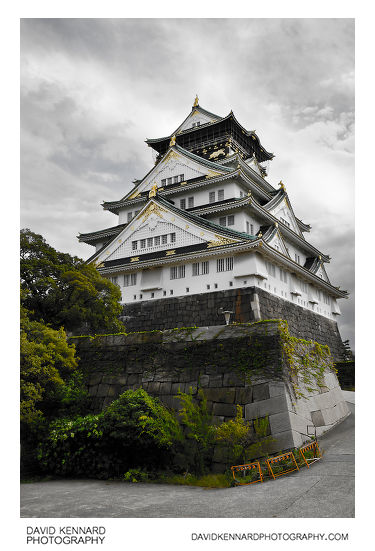 At the top of the Tenshukaku is a viewing platform, and inside is a museum. However, you need to buy a ticket for this (entry to the rest of the castle is free) and since we didn't have a lot of time we didn't bother with this.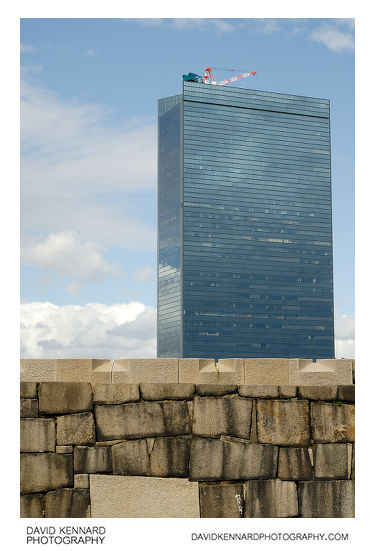 Over the old wall of the castle you can see the modern building of the Crystal Tower (クリスタルタワー; Kurisutaru tawā). The building was completed in 1990, though it looks like they left the crane at the top of the building. Presumably the crane tower has been removed from inside the building.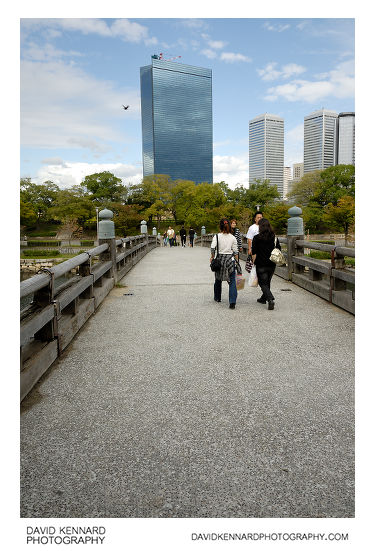 Exiting the castle's inner bailey to the north via the Paradise bridge (極楽橋; Gokuraku-bashi), you can see the Crystal Tower more clearly. The Crystal Tower is located in Osaka Business Park (大阪ビジネスパーク; Ōsaka bijinesu pāku), just to the north of Osaka Castle. To the right of the Crystal Tower is a pair of towers called Twin 21 (ツイン21; Tsuin 21).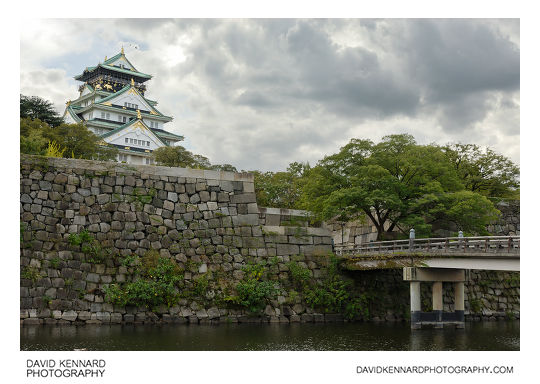 Over on the outer bailey I took a photo looking back over the inner moat towards the castle tower. You can see Gokuraku bashi bridge just on the right as well. The reinforced concrete construction of the bridge dates from 1965. The previous bridge was burnt down during the Meiji Restoration in 1868.
We walked round the outer bailey, which contains large areas of plum trees and cherry trees. The castle is quite famous for its blossoming trees in Spring, but in October, when I was there, the trees were rather boring and green.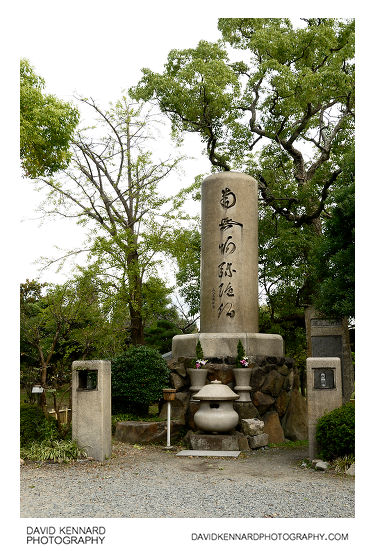 Before Osaka Castle was built, the area was the location of a fortress temple called Ishiyama Hongan-ji (石山本願寺). The temple was founded by a Buddhist monk named Rennyo, and the monument above is meant to mark a pine tree where Rennyo hung his robe.