Sorry I haven't done any blog posts for a while. I'll do an update of what I've been getting up to lately in my next blog post, but just wanted to post a quick pic.
I had an email a week or so ago about a new version of Topaz Adjust being released shortly. I have taken to using Topaz Adjust on my photos quite a bit. Particularly when blending multiple exposures together for increased dynamic range, the image can look quite flat, and Topaz Adjust adds a bit of 'pop' to the photo.
So I was interested to see what tricks the new version has. I have only had a quick play with Topaz Adjust 5, but I liked this painting effect applied to one of my Scotland photos: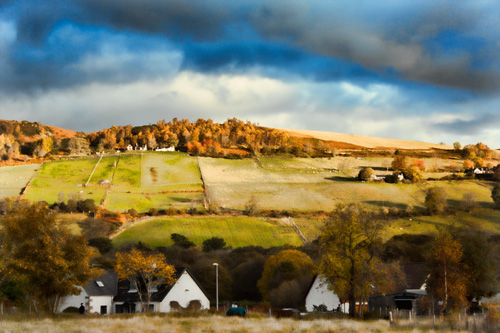 The original photo looks like this: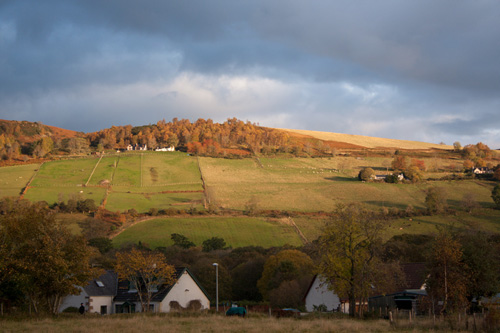 I wouldn't be surprised actually if you could achieve a similar effect in Topaz Adjust 4 by playing with all the sliders, though I did use one new feature of Topaz Adjust 5 - applying multiple effects at the same time. I used the presets 'French countryside', which gives it the painterly look, followed by 'Exposure Color Stretch' with the Adaptive Exposure setting reduced slightly, which boosts the colours.
There are also quite a few other new features in Adjust version 5, though I didn't play with them yet:
Auto-create layer. Automatically creates a new layer where your adjustments will be saved to.
My Collection. Users can now save their presets under My Collection.
Preset Collections. Presets are organized into 5 unique collections.
Local Adjustments. Intuitive selective adjustment brush for burning, dodging, smoothing, and brushing out (erasing) added adjustments - plus edge-aware options.
Histogram. Shows the tonal range of your image.
Curve Tool. Easily adjust image tonality to help emphasize tones, contrast and brightness.
Finishing Touches Tab. Features options for diffusion, grain, borders, vignettes, tone adjustments and overall transparency adjustment.
To be honest, things like curves and localising adjustments you can do in Photoshop anyway, though I guess it might make things quite a bit quicker being able to do it all in one go from Topaz Adjust. It doesn't seem like a big improvement over version 4 to me, rather a smaller incremental improvement. Not to knock it though, I really like the effects Adjust can produce.
If you want to buy Topaz Adjust, I think they will probably be having a discount when Adjust 5 is released. Usually this gives a discount off not only the new release, but all their other products as well, including the bundle. I'll post it on the blog when the discount code is released. I should also mention that if you purchase after clicking through from my website, I receive a commission from Topaz.
UPDATE: Topaz have now released the discount code for a very generous 30% off: Topaz Adjust, Denoise, Bundle etc. 30% discount code. Just enter the code ADJUSTME when you check out.