This post is part of a series on the walk we went on on the second day of our Holiday in Seoul, Korea. If you haven't read the first part, that's here: Korea day 2 - Walk up Namsan part 1.
At the top of Namsan is the N Seoul Tower, a large communications tower that you can go up to get a good view of Seoul. We lined up for tickets to go up to the observatory deck of the N Seoul Tower, though there weren't really any distinct 'lines' for the ticket office. After purchasing our tickets, we went inside the tower and joined the queue for the elevator.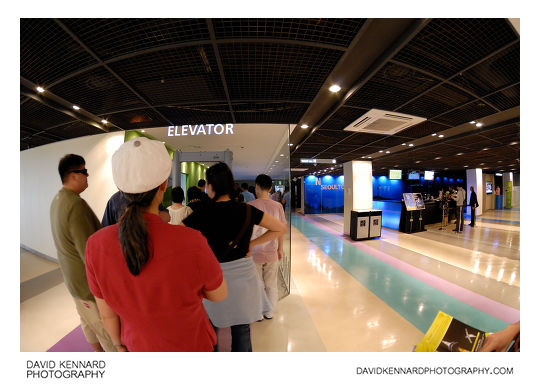 The glass wall along the queueing area has pictures of various other towers throughout the world, along with their heights. Compared to quite a few of them, the N Seoul Tower is relatively small.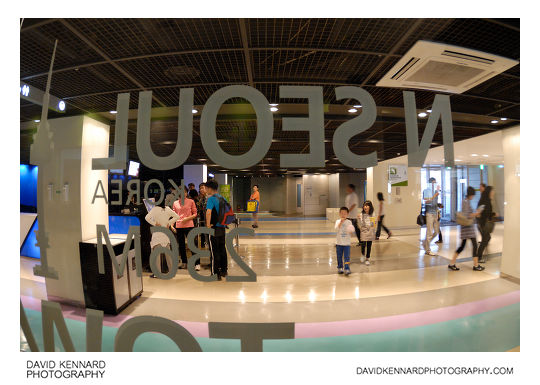 Along the walls of the queue, they had a line of TVs, which made the queuing process slightly less boring. Before the lift up to the observation deck, there was a giant TV, must have been about 100". I think you could win it in a draw or something. It wasn't switched on anyway, and looked a bit dusty. I didn't take a photo of the giant TV, but here's one of the line of TVs along the wall: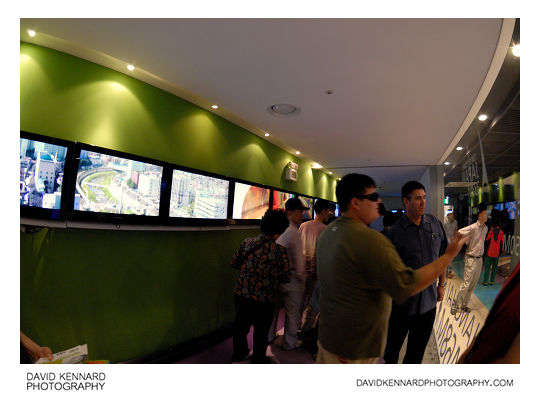 After waiting in the queue for quite a while, we eventually reached the lift. They have a staff member in charge of letting people into the lift, so you don't need to worry about everyone trying to cram into the lift at once.
The lift went up to the digital observatory deck, and from here you could indeed get a good view of the sprawl that is Seoul (and the various surrounding mountains). I was happy to find that I could set up my tripod and take a panorama without being hassled by security guards.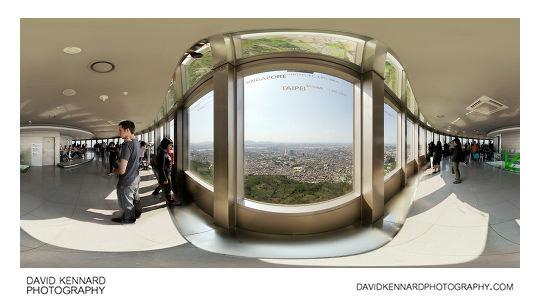 Click here to view 360° VR Panorama
Despite taking a couple of extra images to account for moving people in the above panorama, it seems that I took them in the wrong direction, and so I do have a girl in there who's duplicated. It was quite a lot of post processing work to combine the bracketed images to account for the difference in light levels between the view through the windows and the inside, while also avoiding ghosting of the moving people.