This post is part of a series on the walk we went on on the second day of our Holiday in Seoul, Korea. If you haven't read the first part, that's here: Korea day 2 - Walk up Namsan part 1.
After taking the pano I took some normal photos through the windows, just handheld. They all required large contrast adjustments when processing them on the PC to bring back the contrast lost by shooting through the glass and the haze.
This is Banpo Bridge, crossing the Han River (we never actually went to see the Han River at all during our week in Korea).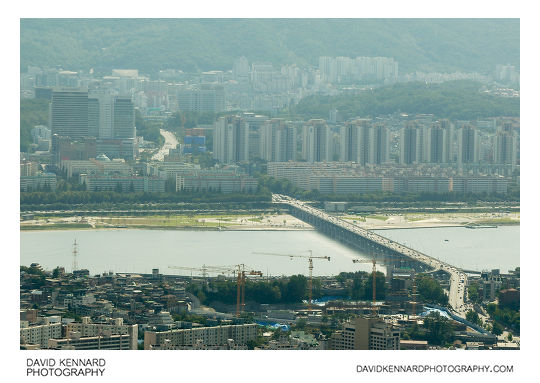 And another one of Banpo Bridge, but this time with it's famous fountains switched on on one side of the bridge: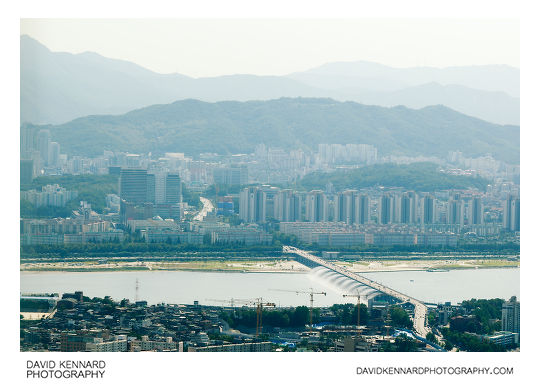 This photo is looking down Hangang-ro (Han River Road):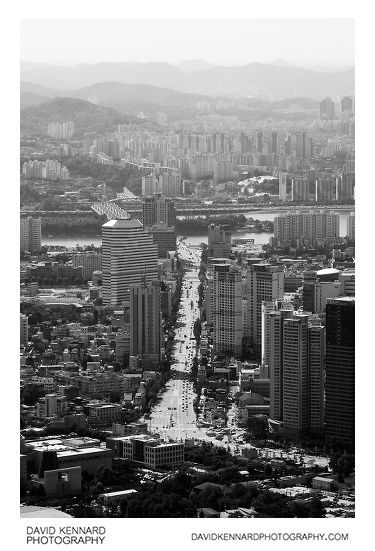 Strangely, they had some Japanese Capsule Toy machines in the Digital Observatory Deck, including magnets of sad looking Tofu heads.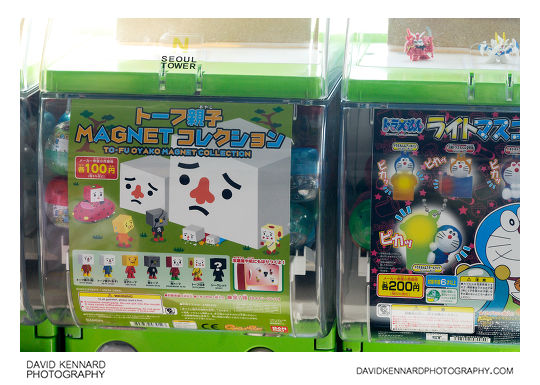 Another section of the Han river: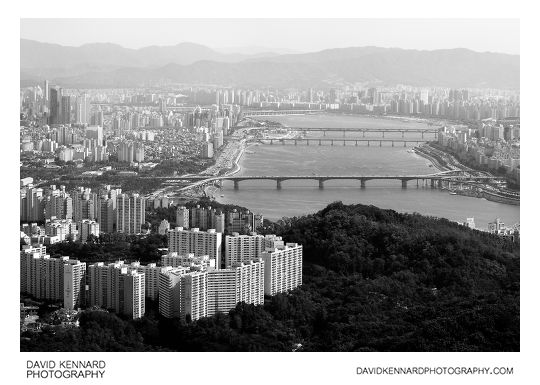 More buildings and Mount Achasan (which is hiding many more buildings behind it):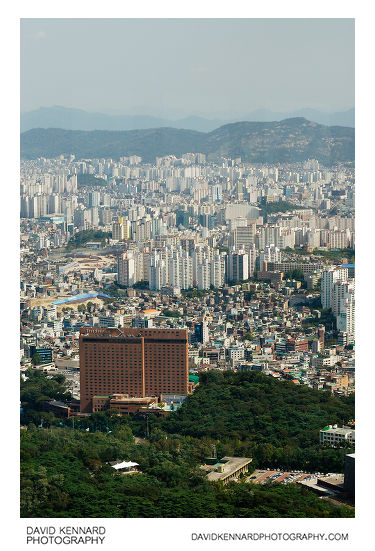 Looking down at some cars parked near the top of the mountain: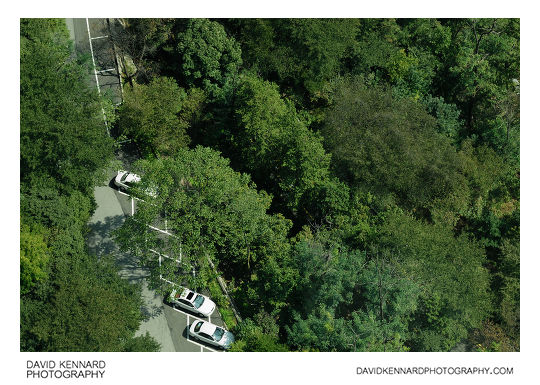 Various buildings and Bukaksan and Bukhansan mountains: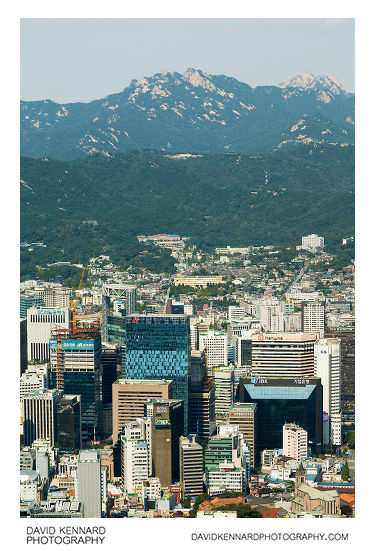 This is a selectively coloured version of a photo looking down at the plaza below in front of the N Seoul Tower: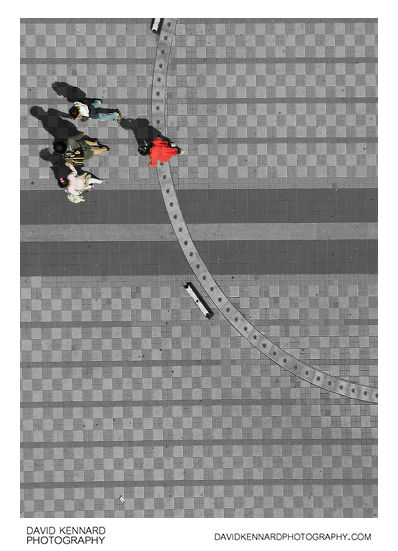 Here you can see Mount Ingwansan, and out beyond Seoul: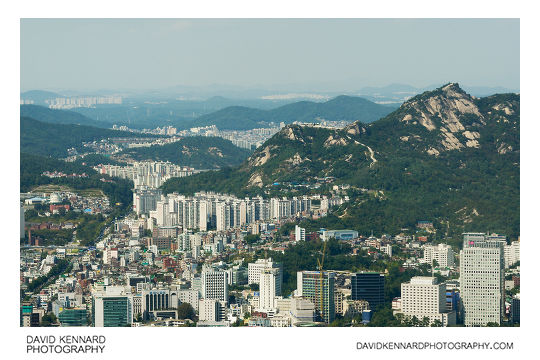 The shadow of the N Seoul Tower on the plaza and trees below: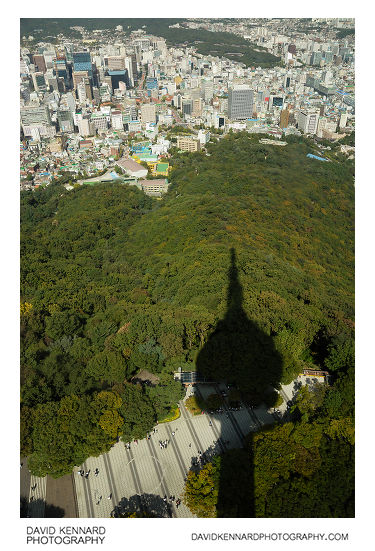 More buildings and Mount Ansan: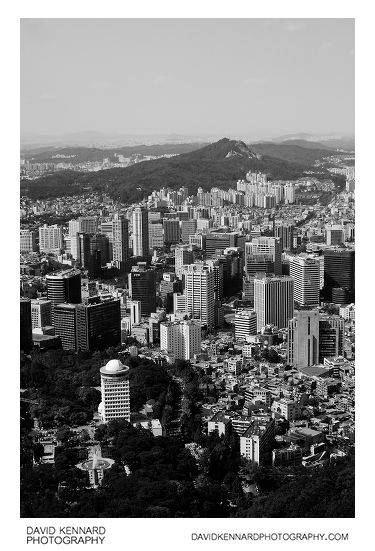 Similar photo to above, but slightly to the left: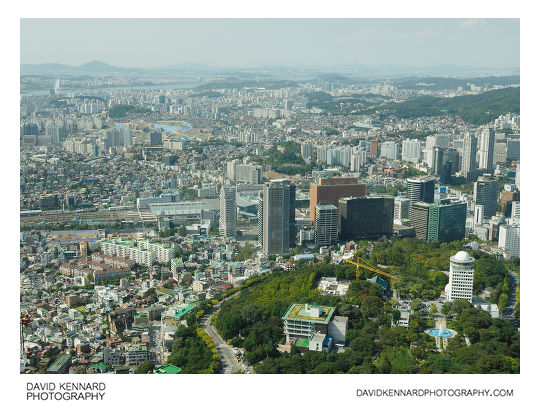 We spent probably about 25 minutes in the tower observatory altogether, then went back down (which meant waiting in a queue for an elevator again). While waiting in the queue, we saw this wall covered with little tiles with love message on them: