This post is part of a series on the walk we went on on the second day of our Holiday in Seoul, Korea. If you haven't read the first part, that's here: Korea day 2 - Walk up Namsan part 1.
When we got back down the tower and outside, we saw these strange metal rods sticking up by the railings. Apparently they light up at night. Looking at other's photos of the N Seoul Tower since we got back, it seems like visiting the tower at night is quite a good idea.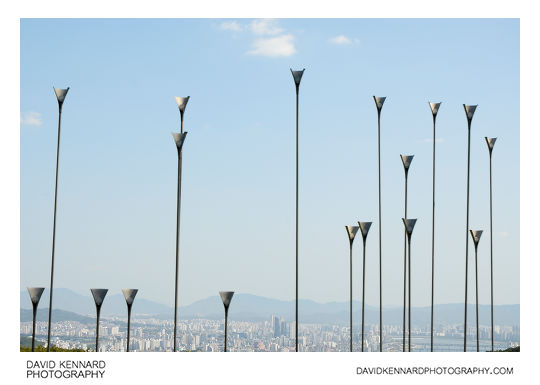 We were also surprised to see the fences absolutely covered in locks.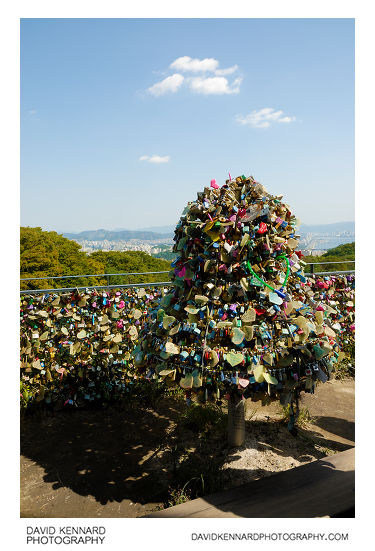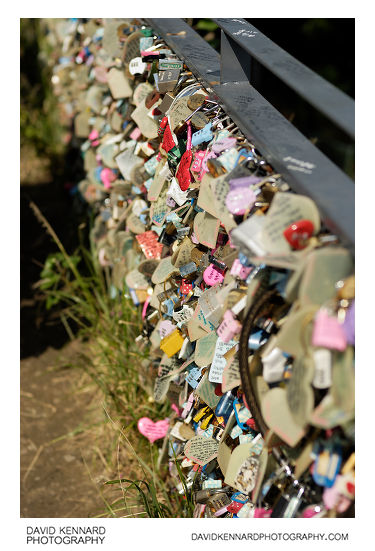 They are known as the 'Locks of Love', and many have messages attached: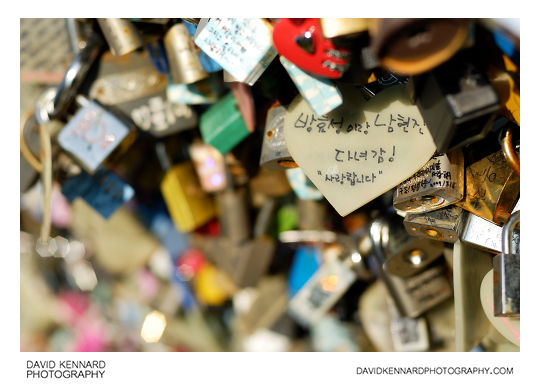 We walked round the back of the tower, and came to this large viewing platform, where I took another panorama: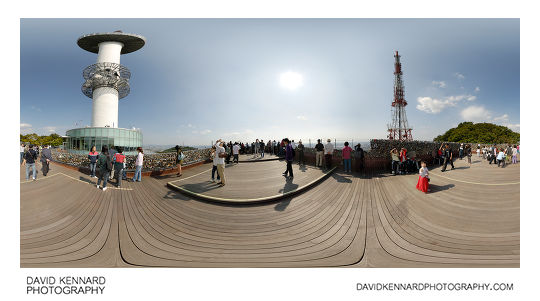 Click here to view 360° VR Panorama
Although it might look like there's a little girl there by herself, that's just a result of the image blending. I had one image where her father and little brother were crouching down and she was taking a photo of them (very cute), but she was half cut off at the edge of the image. Then on another image, she was on it okay, but her brother and father were half cut off. I could have included her brother and father crouching down, but that would look a bit strange. And I could have removed her altogether, but I like the expression on her face and her traditional Korean dress.
One thing I noticed while visiting the N Seoul Tower was that quite a few visitors were Japanese and Chinese. There were also a few Americans and Australians.
I took a panorama on the square in front of the N Seoul Tower: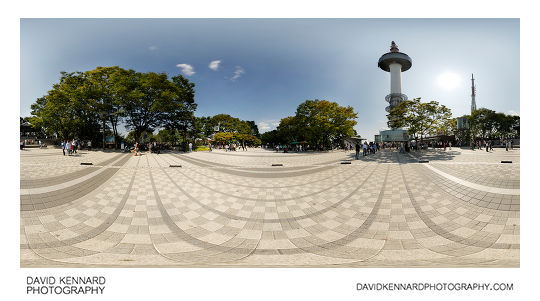 Click here to view 360° VR Panorama
After taking the pano I spent ages looking for my brother, who had walked off to have a sit down. Somehow I managed to look where he was, but not see him. Luckily he came and found me after a bit.
Underneath the trees at the opposite end of the square to the Palgak-jeong, was this monument. I spent a long time looking on the internet trying to work out what this was. The first couple of sources I found seemed to point to it being a triangulation pillar, but I didn't think this could be correct, given that it is surrounded by trees. But after finding a few other sources, which also said it was triangulation pillar, I guess it must be.