In this post I'll compare the Zomei 680nm, 760nm, and 850nm infrared filters to see how they differ for black and white IR photography. (You can see my previous colour comparison of these filters against other IR filters here: Zomei IR filters review & comparison).
In theory you would think that the longer the wavelength that transmission starts from, the stronger the 'IR effect' should be. That is, foliage should appear brighter, and the sky should appear darker the longer the wavelength. Read on to find out if this holds true in practice.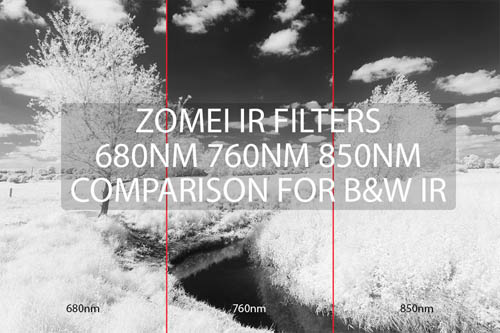 Here are the images taken with the different filters. They have all been run through CornerFix to remove vignetting / IR hotspot, then desaturated and had the same curves adjustment applied. Please note the images are taken with a full spectrum converted camera.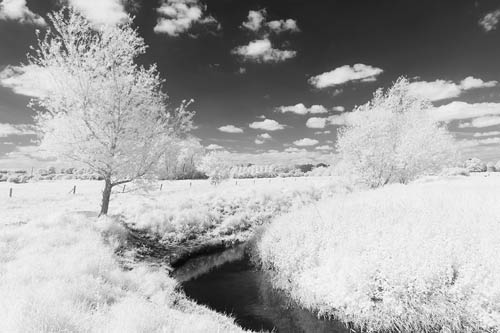 680nm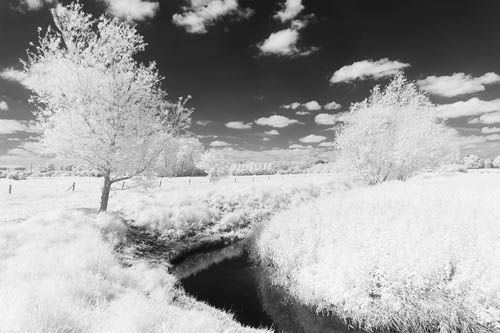 760nm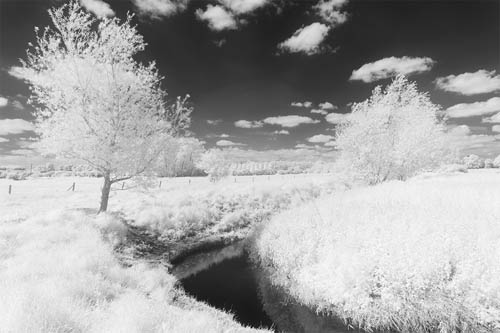 850nm
Looking at the bare sky in the centre of the image, the 760nm and 850nm images are virtually the same in terms of tone. As I said earlier, the deeper you get into infrared (longer the wavelength), the darker you'd expect the sky to be. But as you can see here, it seems that once the majority of visible light has been eliminated (760nm filter), then additionally eliminating shorter wavelength IR (850nm filter) has no effect.
The 680nm filter does have a slightly brighter sky than the other two images. However, the difference isn't much. We can easily make the 680nm image match the other two images by using a Black and White conversion (as opposed to a simple desaturation). I reduced the tonality of the reds (after white balancing the image), which gives the following: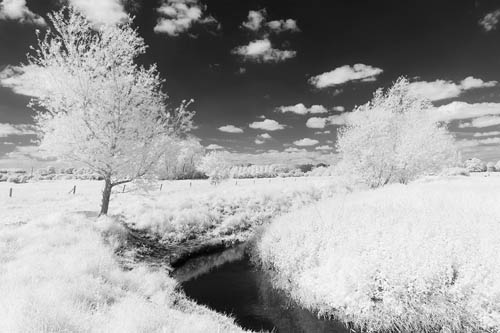 With these findings, I can't really see any point to the 850nm filter. It can only give a single toned image but requires a longer exposure than the 760nm and 680nm filters (since it is letting through less light). The 760nm and 680nm filters can give the same Black and White results as the 850nm filter, but because they pass some visible light they can be used for false colour IR photography as well.