While I didn't intend spending any more money at the moment on my Fuji system, I recently gave in and purchased the Fuji 35mm f/1.4 and 14mm f/2.8 lenses. The main reason behind this was that I wasn't entirely happy with the performance of my Fuji 16-50mm f/3.5-5.6 XC OIS lens when photographing mixed infrared and visible light.
Reports I had read indicated that the 35mm and 14mm lenses were extremely good for infrared photography. I couldn't find much information on how good they were for IR+Vis photography, but people using them for IR on unconverted cameras (where the 16-50mm performs quite poorly) seemed very happy with them.
So, in this post I'll compare the 16-50mm at 16mm against the 14mm lens and the 16-50mm at 35mm against the 35mm lens for IR+Vis work to see whether the primes really are 'all that'.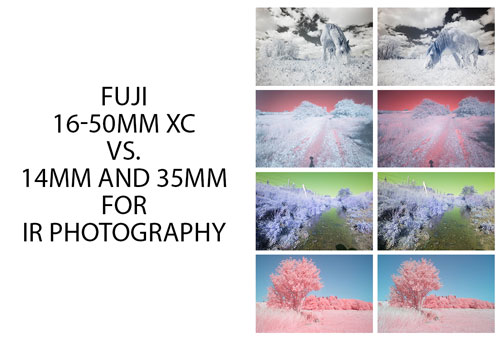 To sum up, the 35mm and 14mm lenses do seem quite a bit better for Vis + IR work than the XC 16-50mm zoom lens. However, I don't think the 14mm is quite as good for IR as people make out. (Typically when people are talking about IR photography, they are actually talking about IR + Vis photography).