I recently purchased a Schott BG40 IR cut filter, so I thought I'd do a comparison to see how it stacks up against my B+W 486 UVIR cut filter and Tiffen Hot Mirror filter. The purpose (at least for me) of a UVIR cut filter is so I can use my full spectrum converted camera for taking 'normal' photos.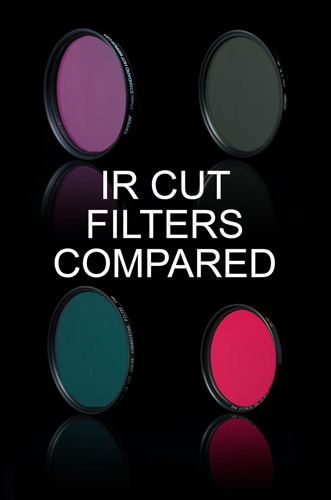 Transmission graphs for the filters can be viewed at:
The BG40 does not cut UV (much), which you might think would cause a problem with UV contamination when shooting with a full spectrum camera. However the main light sources I use (full spectrum flash and the sun) output very little UV compared to visible and IR, and so in practice this is not a problem.
The Tiffen T1 was purchased after I started these tests, and so is not included in the 'studio' tests below, but is included in most of the later 'real life' tests. From the transmission graph you can see it isn't suitable for removing IR when shooting with a full spectrum camera, however for some reason I didn't think to check the transmission graph before I purchased it. It is marketed as a Breakthrough Solution for IR Pollution and it contains no dichroic coating; therefore, it will not vignette green, magenta or cyan at wide angles, so it sounded like a good filter.
Please note there are a lot of comparison images in this post!