This post is part of a series on our visit to Gyeongbokgung Palace on the third day of our Holiday in Seoul, Korea. If you haven't read the first part, that's here: Korea day 3 pt. 1 - Seoul Metro to Gyeongbokgung Palace.
At the end of Sejongno we turned west down Saemunangil (새문안길). There was a shop down Saemunangil with bags of "Burt's Bees", which I thought was a bit strange: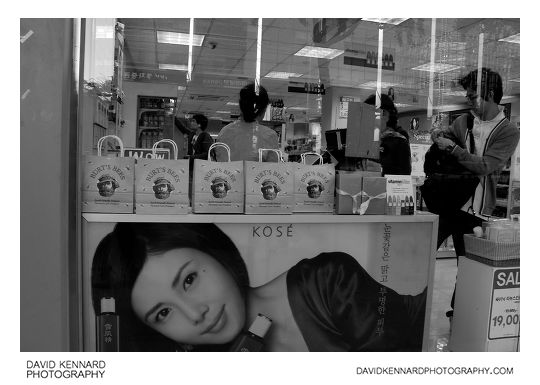 Carrying on down Saemunangil, we came to the Hammering Man sculpture. From Wikipedia:
Hammering Man is a series of monumental kinetic sculptures designed by Jonathan Borofsky which have been installed in various cities around the world.

The largest Hammering Man is in Seoul, South Korea (37°34′11.67″N 126°58′20.85″E) next to the Heungkuk Life Insurance building in the Gwanghwamun area of the city.

Seoul's version of Hammering man was erected in 2002. It weighs 50 tons and stands 22m/72ft high.

Seoul's Hammering Man strikes a blow every minute and seventeen seconds and is considered an important city landmark.

In August of 2009 the city of Seoul completed a project to move the sculpture 4.8m/16ft closer to the sidewalk and dedicated a new small gallery park at the site. A spiral path, surrounding the statue, was created to enhance the presence of the work of art. Specially designed benches, landscaping, and lighting were added to the surrounding park to complete the effect.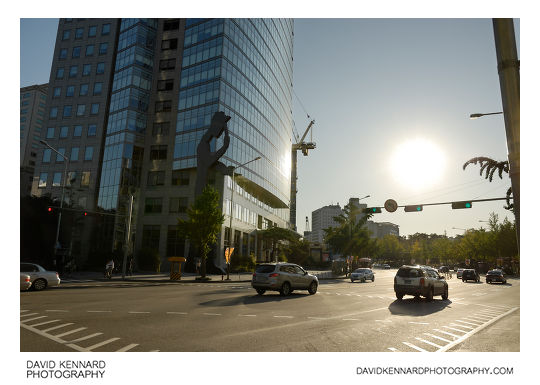 That photo took quite a lot of work to remove large amounts of lens flare.
We sat down on a wall outside the Seoul Museum of History and a friendly dragonfly came to see us: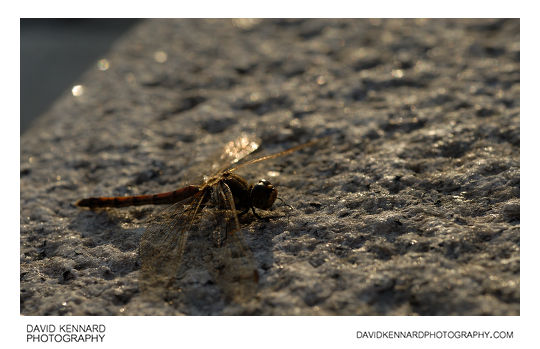 There wasn't much light, so I put my camera's pop-up flash on, and took a few more photos: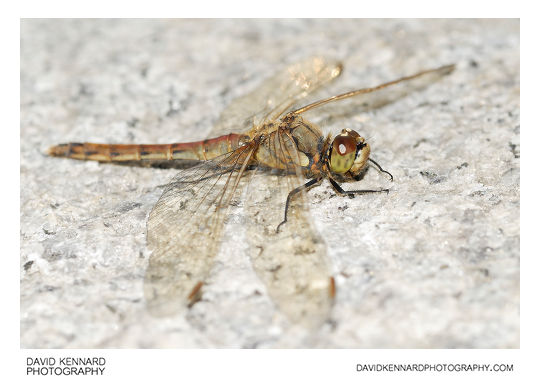 The Korean dragonflies, known as "Jamjari" (잠자리) in Korean, don't seem to mind people at all, and I got them to climb onto my finger a couple of times while we there. In the UK I've only ever glimpsed dragonflies speeding past.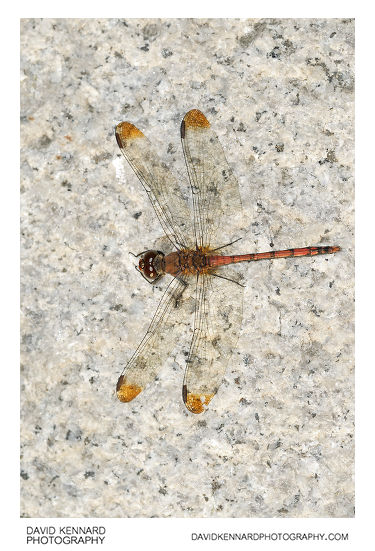 I used an Olympus MCON-35 close-up filter for the dragonfly photos, as I didn't have any macro equipment with me.
We then turned round and walked back down Saemunangil, and then back up Sejongno. Walking up the western side of Sejongno we saw this poorly tree wrapped up in bandages and on an IV drip: