On our 3rd day in Korea (our 2nd full day), we decided to visit Gyeongbokgung Palace, the oldest and most spectacular Joseon Dynasty Palace in Seoul.
To get there we used the Seoul Metro subway. Unlike UK underground tickets, which are just printed on card, the Seoul Metro uses plastic tickets with an embedded chip that you scan over the chip reader on the turnstiles (like the Oyster Card).
Obviously, the tickets would cost a lot more to produce than card tickets, so when you purchase the ticket you pay ₩500 deposit. When you get to your destination you put your ticket in a ticket refund machine and get the ₩500 deposit back.
The subway stations all tend to be unmanned, so you have to use the ticket machines. Unfortunately they don't accept credit cards, so you need to make sure you have plenty of cash. You can also purchase a T-money card which you can use a ticket, and charge up with extra cash at the ticket machines (like an Oyster Card). You get a discount for using a T-money card as well, but unfortunately we didn't know this when we were there, so we just bought separate tickets for all our journeys.
The subway stations are very large with many entrances/exits, and it can take quite a while to walk from from an entrance to the platform. If you're only travelling one or two stops, in some cases it may actually be faster to just walk to your destination!
Here's an advert from the subway, telling people not to take up too much room on the seats: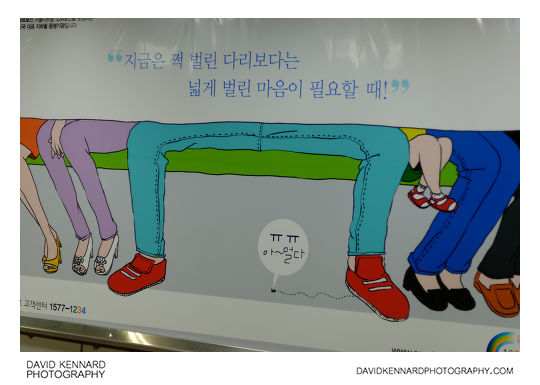 Many of the long corridors that lead to the central part of the station have shops on either side of them. This advert with a pink swiss roll and presentation boxes of cakes caught my eye: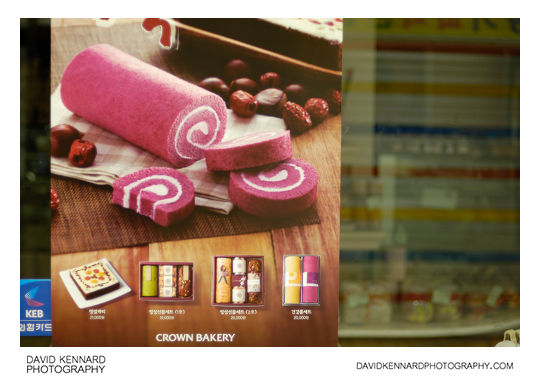 As well as the 'proper' shops they also market stall style shops.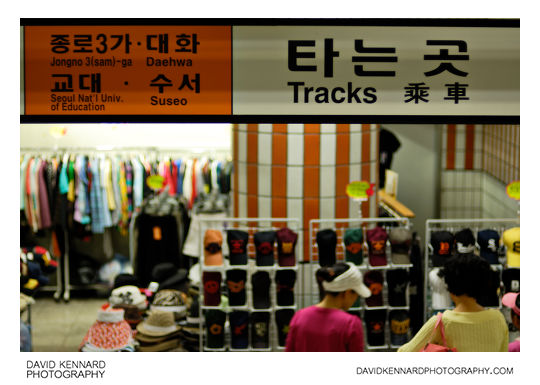 You can also see in photo above that the signs are in English. The trains also announce each stop in Korean and English (and normally Chinese and Japanese as well). In the UK you're lucky if a train announces its stop in English, let alone another language. And those UK trains that do have announcements of stops tend to announce each stop in such a muffled way that you can't work out what they're saying. The Korean trains announce the stops with a nice clear voice.
We got the train from Euljiro 3(sam)-ga station, which was near our hotel, to Gyeongbokgung station. Then it's a long walk down various corridors until you get out of the station. On the way we saw an old Korean sundial: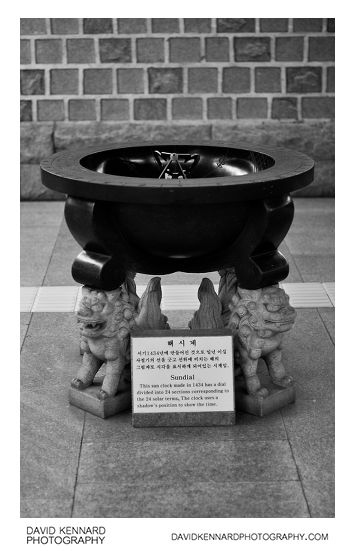 We walked through the Seoul Metro Art Center (I didn't take any photos of the art on display though).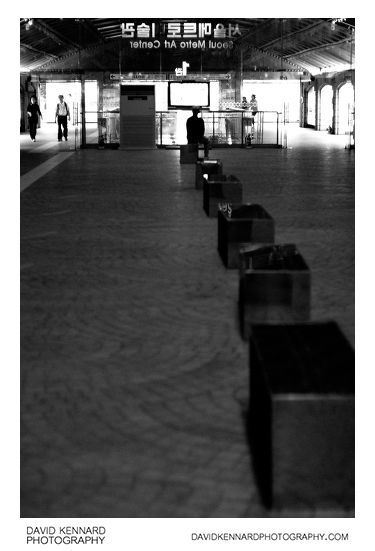 Under the Bulromun gate to get long life (Why didn't I notice that column when taking this photo?!)
Down a corridor lit by stone lanterns: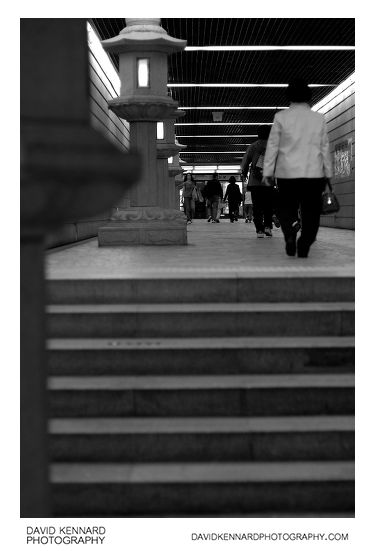 (T.E.D.P.H.A.M on Flickr has a much better photo of the stone lanterns than my one)
And then eventually we came out at Gyeongbokgung Palace. Unfortunately I forgot to change the aperture I was shooting at from what I was using in the underground for my first couple of pics.