It's taken me a long time, but I've eventually got round to processing the photos I took on day 4 of my holiday in South Korea, back in October 2009. The last post I made on this subject, with photos from day 3 of the trip, was back in May last year. At this rate it should only take me about 10 years to finish processing the photos from the whole holiday.
On day 4 of our trip we, (that is, me and my brother), decided to go to the Korean Folk Village. It is a relatively short journey from Seoul, where we were staying, and easy to get to using public transport.
The journey involved getting a train on Line 2 from Euljiro 3(sam)-ga station, near our hotel, and then switching at City Hall station to Line 1 to Suwon station.
I found this advert in Euljiro 3-ga station interesting, it looks a bit like it is advertising a packet of cigarettes, but it is actually chewing gum.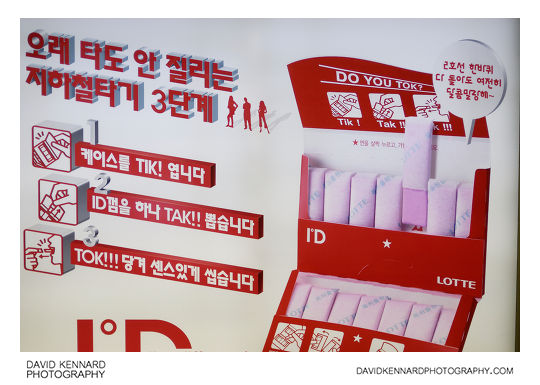 Here is the platform for line 3 at Euljiro 3-ga station: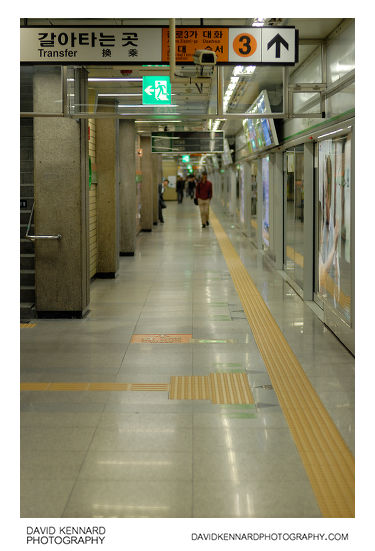 When we got to City Hall Station, we had to walk quite a way to get to Line 1. On the way we saw they were holding an art exhibition in part of the station:
I think all the artworks are entries for a competition the city was running as part of Seoul being chosen as the "Design Capital 2010". The award is biennial, and it was announced that Seoul had won the 2010 accolade in 2007, so it's not as strange as it seems that they were celebrating being Design Capital 2010 in 2009.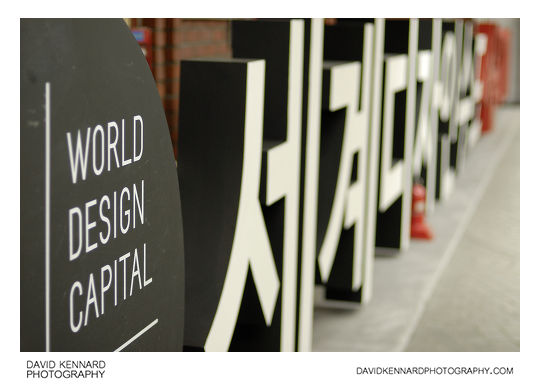 I took a photo of this poster below because it seems a bit strange. It is an advert for Garak Market (가락시장), one of the largest wholesale markets in the world. It took me a long time to find out what the advert was for as the Hangeul of the ad title is so stylized I couldn't read it. The advert features a girl playing the violin for her family who are on a picnic with a large amount of fruit and vegetables they are probably have supposed to have bought from the market.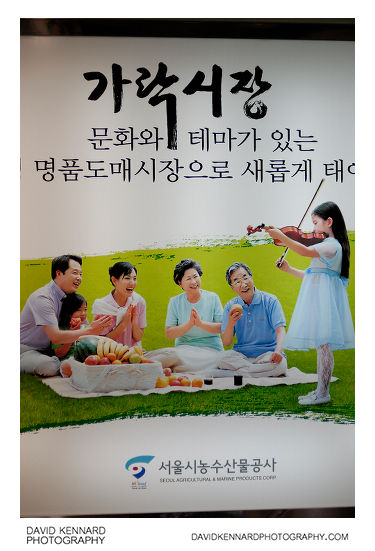 I think this person in the photo below has probably gathered up all the early morning newspapers left by commuters and is taking them to be recycled. The stack seems to be a variety of papers anyway.
We caught our train from City Hall Station, and arrived at Suwon Station. In one of the shops they had a nice Span and Tuna presentation box: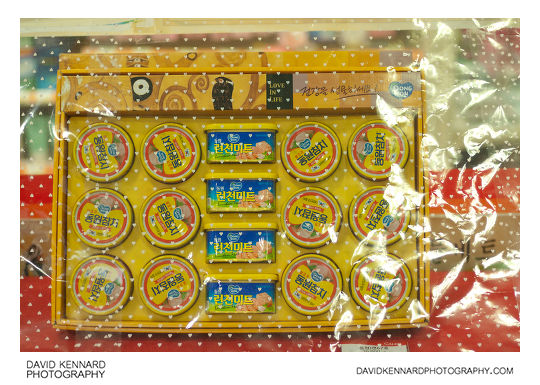 I can't find any info on it now, but I'm pretty sure that in Japan people buy presentation boxes of food like this to give to people at special events. Maybe they do the same in Korea?
And last photo for this entry is Colonel Sanders with his glasses glued to the side of his head because the arms aren't long enough to reach his ears. Again, this was taken in Suwon station.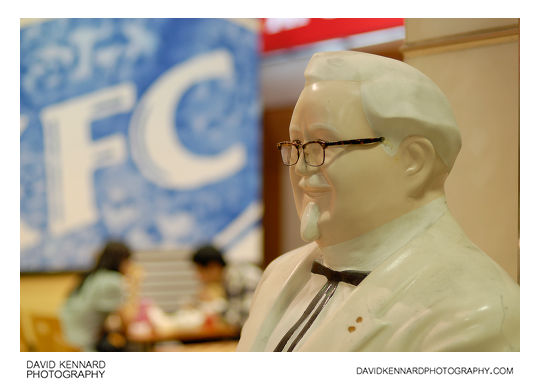 Once out of Suwon station, there is a small building nearby where you can buy a ticket for a special tourist bus to the Korean Folk Village. So we bought our tickets and got on the bus, which was already there waiting. The bus left shortly after we got on, and ot didn't take long to get to the Folk Village.