This post is part of a series on my visit to the Korean Folk Village on the fourth day of my Holiday in Seoul, Korea. If you haven't read the first part, that's here: Korea Day 4 Part 1 - Seoul Metro.
When you get into the Korean Folk Village, quite near the entrance there is a large number of eartheware jars. At the time we were there, they were also drying chili peppers on mats.
The Koreans like their spicy food, and the peppers would probably be made into gochujang paste. The paste would then be fermented in the earthenware pots. Kimchi and doenjang (soy bean paste) would also be fermented in these large jars. The large jars are known as Onggi, and they have a number of properties that make them suitable for fermenting and storing food. For more info see the wikipedia article: https://en.wikipedia.org/wiki/Onggi
Unfortunately for the above photo I forgot to bracket my shot, and so some of the mat and the highlights on the chilis are blown out and overexposed.
A bit further along, and there are two standing stones and a large mound of stones, all covered in small bits of white paper.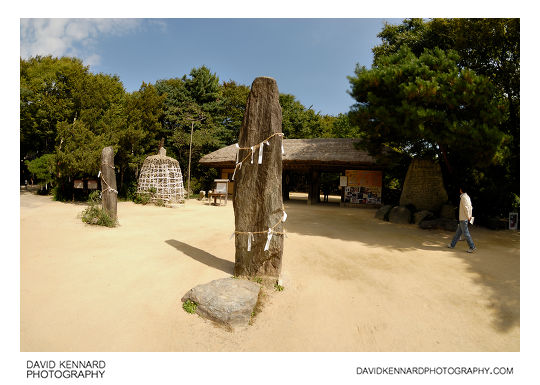 The bits of white paper are buddhist prayers that people write and then tie onto the string wrapped round the stones.
Below we have some of the tools that Korean farmer's used to use. Unfortunately I didn't have the ISO on my camera set high enough, which resulted in a long shutter speed and blurry photo.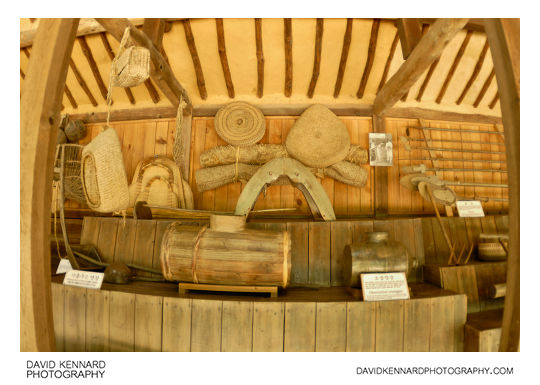 Of interest in the above photo is the small tank to the bottom left, which is an ojum changun. This website explains what an ojum changgun is:
Farmers also collect liquid fertilizer in either a round pitcher (ojum tok) or in a "rice bale"-shaped ojum changgun, with a small mouth affixed to its side. The latter is similar to, but larger than, the liquor container called sul changgun.
You wouldn't want to get your ojum changgun and sul changgun mixed up!
This next photo, I had a hard job working out what it is of. Although I took a photo of a sign explaining the area, the sign was in Korean. I don't know Korean, and Google Translate is pretty rubbish at tranlating Korean to English. As far as I could work out, it is an excavation of an old Korean building that was made at the nearby city of Dongtan New Town.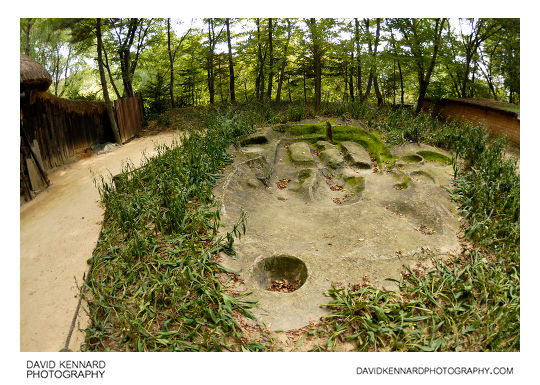 The description on the placard in Korean was:
조선시대 주거지
경기도 화성에 위치한
동탄 신도시 개발지구에서 발굴된
조선시대 초가집의 집터원형을
이전하여 그대로 복원한
조선시대 주거지의 모형입니다
Google translates this to:
Residential Joseon Dynasty
Gyeonggi Province is located on Mars
Dongtan New Town Development Area excavated in
Shore of the Joseon Dynasty, bringing a prototype
As previously restored by
Habitat is a model of the Joseon Dynasty
Which doesn't make much sense, and I'm pretty sure Gyeonggi Province isn't located on Mars.
This next photo is outside a Commoner's house from the central region. The Korean Folk Village website calls it a Farmer's House, while the information board outside the house calls it a Commoner's House. And the information leaflet just calls it a House. I think that probably in the late Joseon period (19th century) a Commoner and Farmer were both the same thing.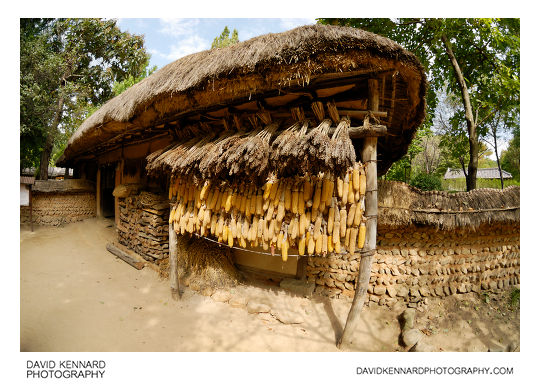 The house is actually a small complex of different buildings, as you can see from this pano that I took inside: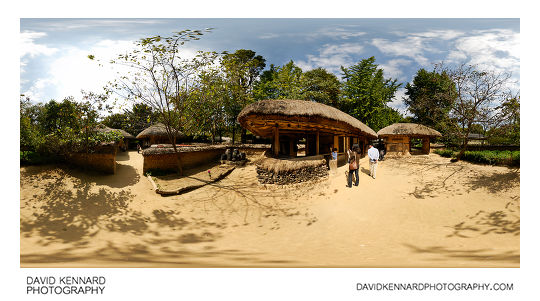 View as 360° interactive panorama
Next we went to look at the lake and flat stone bridge.