This post is part of a series on my visit to the Korean Folk Village on the fourth day of my Holiday in Seoul, Korea. If you haven't read the first part, that's here: Korea Day 4 Part 1 - Seoul Metro.
After watching the horsemanship display, we carried on looking round the Folk Village. This next photo is of the Seonangdang (서낭당), which is the village shrine. It consists of a tree with long strips of coloured cloth hanging from the branches, some upright stones, and a small building. Villagers would come here to pray for a good harvest and good health.
The Korean Folk Village also includes a water powered mill, and has a rock with a poem dedicated to the Water wheel inscribed on it: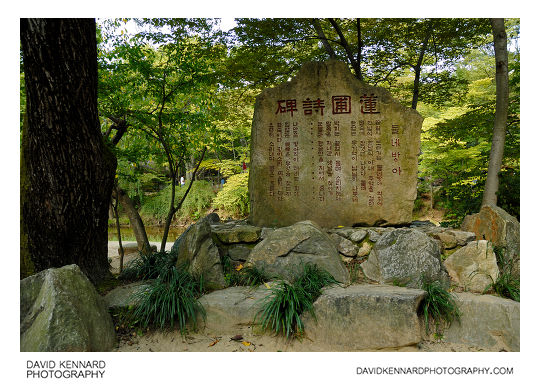 Unfortunately I don't have an English translation of the poem as Google Translate isn't very good at translating Korean. According to a nearby information board, the poem was written by Korean poet Yi Ha-yoon.
Edit: Thanks to Yoon for adding a comment with the translated poem
Most of the farmer's or commoner's houses in the Korean Folk Village have baskets and various other tools hanging on the outside walls.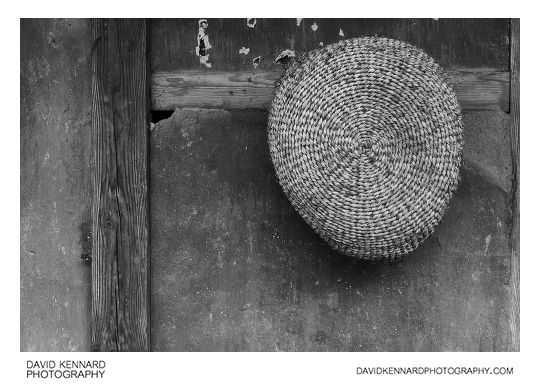 I took a panorama in the backyard of the house that the straw sandals weaver was working in: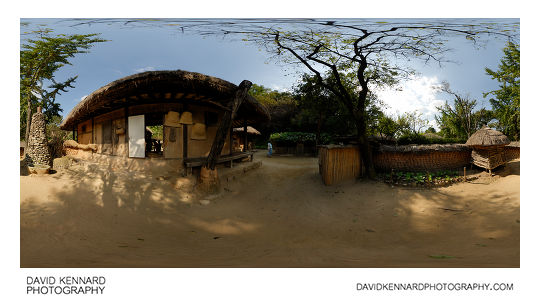 View as 360° interactive panorama
I think that possibly this house was one of the ones from Jeju Island. I took a photo inside the house from the front of the weaver working as well:
Hidden away atop a hill in a wooded area in the north-eastern area of the Korean Folk Village, there was a small area with a buddha statue. There were also small stone piles placed around the statue, a common sight in buddhist countries. I'm not sure what the exact relevance of the stone piles is, but apparently they are based on the stupa style of buddhist architecture.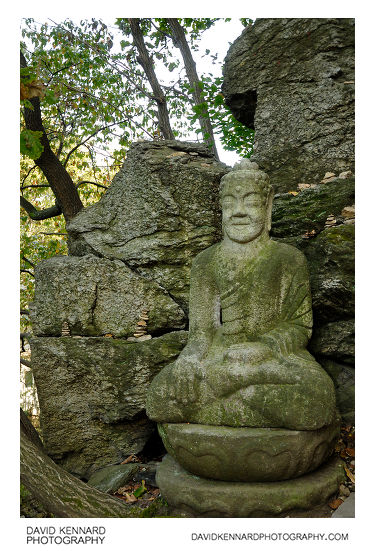 We carried on looking round the folk village, and next went to look round the building Nae Ja-Won.