About a week ago we had some reasonable weather for infrared photography - blue sky with white clouds. (It was a bit more cloudy than I would have liked, with clouds often obscuring the sun). So I went out to a nearby field to take some IR fisheye photos of the Gypsy-cob horses that have been there for the last couple of years.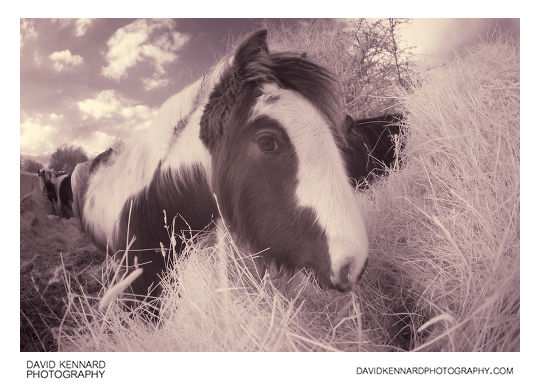 For these photos I used my Fuji IS Pro with the Tokina 10-17mm fisheye and a rear mounted Lee IR polyester filter. You can read more about how I rear mount the filter on the fisheye here: IR with the Fuji IS Pro and lenses that don't accept filters and here: IR with the Fuji IS Pro and lenses that don't accept filters pt. 2.
With the filter in place, I wasn't able to see anything through the viewfinder. So I just held the camera out in front of me, and guessed the composition.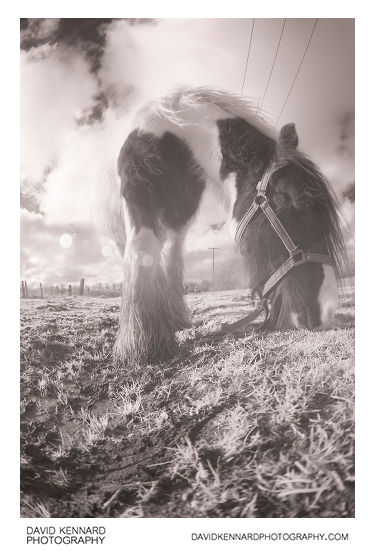 I used manual focus, and pre-set the focus on the lens to a certain distance. Then I tried to hold the camera approximately that distance from the horse I was photographing. There were two reasons for doing this.
The first is that since I couldn't see through the viewfinder, I wouldn't know where the autofocus point was. It could be on the horse, or it could be on the background.
The second was that this lens (and most lenses) focus IR at a different point to visible light. The AF sensors are designed for focusing in visible light, so focus would have likely been incorrect using autofocus even if the focus point was put over what I wanted to focus on.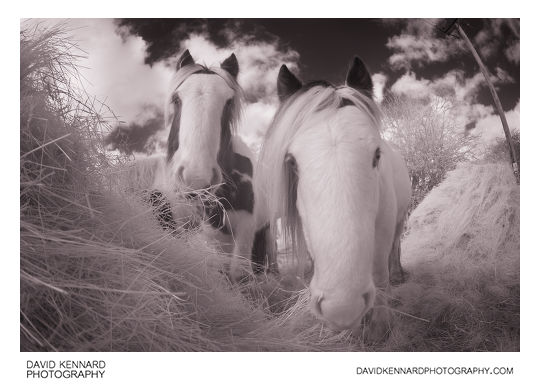 As you might imagine, having to guess the focus meant that quite a few shots were out of focus. But checking the images at 100% magnification (you have to turn on post-shot image review on the IS Pro for this) enabled me to get an idea of whether I needed to set the focus closer or further away.
The large depth of field of a fisheye lens certainly helps in letting you get the focus not completely in the right place. Though the tiny amount of distance between infinity and 0.4m on the focus ring isn't so helpful.
When photographing the horses, which are pretty used to humans, at first they didn't like me getting quite so close. You do need to get very close with a fisheye. They also were slightly startled by the shutter sound the first time I took their photo. But with a bit of persistence they would get used to it, and let you get a few shots.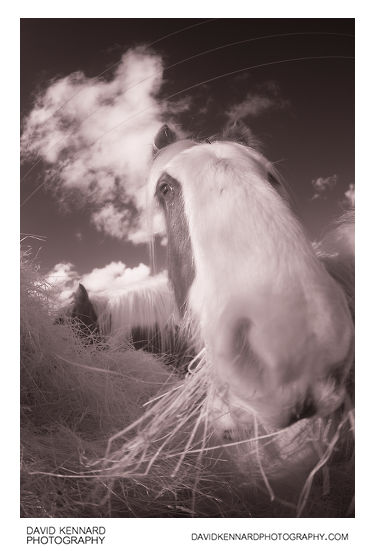 The Lee IR filter pretty much cuts out all visible light, making for monochromatic images. When processing them I tended to play with the white balance a little bit and reduce the saturation.
One problem with the large field of view of the fisheye is that it makes it very easy to include background items that you might otherwise choose to exclude. The horses were gathered around some piles of hay, which had a utility pole nearby. Hence quite a lot of my shots include the overhead wires in them.
For a couple of images I went to the trouble of cloning out the overhead wires, but for the majority of images I left them in. For the image below the lines are there, but the sky is so dark you can't really see them.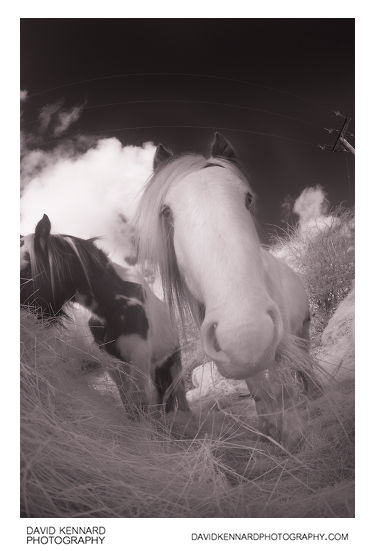 After taking quite a few infrared photos, I removed the IR filter from the back of the lens and shot some full spectrum photos. When I first tried shooting with no filter, back when I got the IS Pro, I thought that full spectrum images didn't work well. They were just like a standard image but with a strong red tint and not as sharp.
But I've now realised that if you leave the camera on an infrared white balance (or set that in RAW conversion), then you can achieve images with reasonable colour.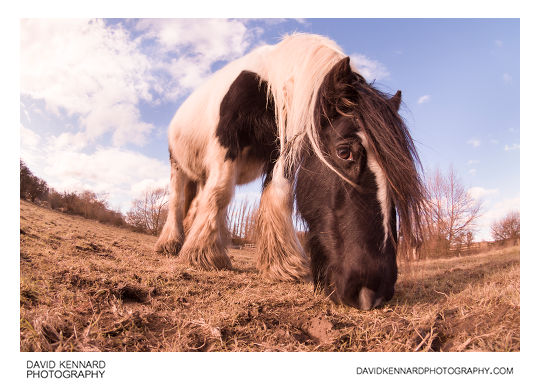 The issue of visible light and infrared light focusing at different points is still there though. When viewed at 100%, the pixel level detail of these full spectrum images is not good.
For landscapes it would be possible instead to take two photographs, one in IR, and one in visible light, and then combine them. Provided you adjust the focus point for each image and then manage to align them exactly (some resizing may be necessary) in Photoshop, this would give a sharper result. But for photographing moving subjects such as horses, then just shooting with no filter is the only option for a full spectrum photo.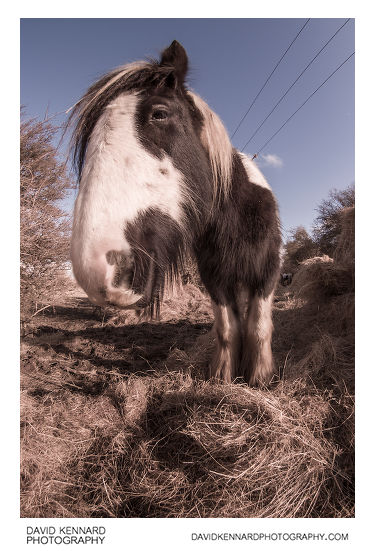 And for landscapes too, shooting with no filter is much easier. So long as you don't look at the full size images too closely, the pixel level blur is not really a problem.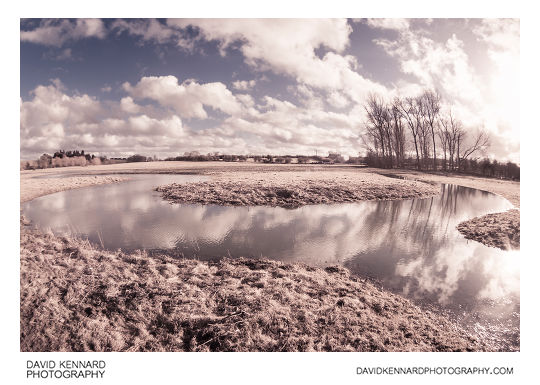 Well, that's all for now, I hope you enjoyed the images!