The weather has been mostly rainy and overcast since I got my Fuji IS-Pro, however, while last Saturday wasn't great for IR photography, it was at least sunny. So I took both my Fujifilm IS-Pro and Nikon D200 out on a walk with me to take a few snaps.
On the Fuji IS-Pro I used my Nikon AF-S DX Zoom Nikkor ED 18-70mm F3.5-4.5G (IF) lens, while on the D200 I had my Tokina ATX107 DX FishEye 10-17mm F3.5-4.5 lens. While the lenses aren't directly comparable, at 18mm on the nikkor and 17mm on the tokina, there isn't a great difference other than the the tokina being slightly wider and more distorted.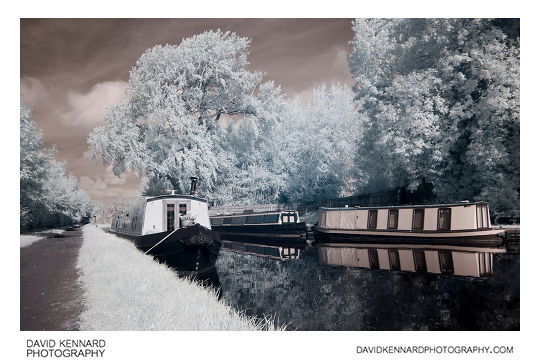 When I get my UVIR cut filter I'll probably do a proper comparison between the two cameras and IR / Visible + IR / Visible on the Fuji.
If I wanted to go from shooting infrared to visible light with the same lens it would involve:
Remove lens hood from filter / lens
Remove infrared filter from lens
Screw in UVIR cut filter or remove lens and attach to a 'normal' camera
Which is probably okay if you take a slow methodical approach to your photography, but not very convenient if you're just taking a few snaps as you walk along.
As per my previous post, I am currently using a resin Hitech Infrared filter for the Cokin P filter system, and one of the issues with this is flare caused by the resin filter. The lens hood available for the Cokin P system comes in a form of black plastic attachments about 20mm wide. You then attach as many of these to each other as you need for your lens, and then attach them to the filter holder.
This is not a particularly flexible arrangement, and it's not that easy to attach and remove the lens hood sections as needed. I haven't been able to attach a lens hood both behind and in front of the filter either. So I decided to make my own lens hood out of cardboard:
This cardboard lens hood works better than the proper lens hoods for the Cokin P filter system as it can easily be moved forward and backwards. Because it extends behind the filter, it should also make it less likely that you'll get light hitting the back of the filter and causing flare.
In use, I found that when I could see lens flare in an image, I could move the lens hood further forward until the flare disappeared. However, it's not particularly easy to accurately adjust the lens hood while keeping the composition the same when shooting using live-view and hand-holding the camera.
I also found that I had some lens flare in some of my photos when processing them, that I hadn't noticed when I was taking them. I think that it would be easier when shooting from a tripod as you don't have to worry about the camera moving about as you move the lens hood, and you can take more time to adjust it accurately.
Someone asked me what the images looked like when shooting the Fuji IS-Pro without an IR or UVIR cut filter. The answer (in my opinion) is not very good - green foiliage appears brighter than normal and everything seems to have a reddish tint.
Both the below images have been post processed quite a bit, but they still give a reasonable impression of how Visible + infrared compares to visible only.
Visible + infrared (Fuji IS Pro):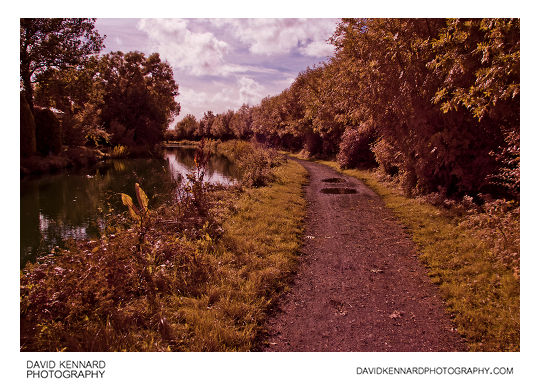 Visible (Nikon D200, 3 images blended for exposure):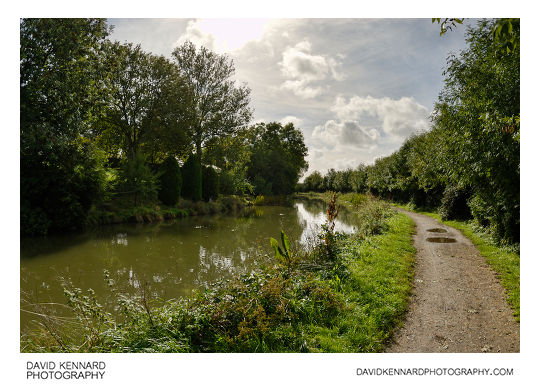 Because infrared light focuses at a different point to visible light, this can also cause blurriness when taking a photo using both visible and infrared light. I do find this evident in my visible + IR photos, though not a particularly great amount. When I get the UVIR cut filter, I should be able to do a better comparison between visible + IR vs. visible to see how sharpness is affected.
Below are 3 crops showing a 100% crop from the two images above, and also one taken using an infrared filter. The IS-Pro images were resized to 10MP before making the crop, and none of the images have had any sharpening. Click the thumbnails to view full size:
Here's another comparison of IR vs. Visible + IR vs. Visible only:
Thanks to Claypaws on dpreview for the following infomation regarding the image size and DR settings when shooting RAW, and whether third party RAW convertors make use of the Fuji's extra highlight pixels:
DR and image size settings have no effect on the raw file unless you set DR to 100%. 100% switches off recording of the R pixels and the raw filesize halves. For all other DR settings the R pixels are recorded and the DR setting does not affect what is recorded on them.

ACR and HS-V3 both use all the recorded pixels and so do quite a few other raw converters. They vary in exactly what they do with the recorded data.

I prefer HS-V3 to other converters because of the smoother tonality and better colour response in images which are correctly exposed. If you make a point of massively overexposing your images and wanting to perform the data manipulation often described as "highlight recovery", then ACR does that more convincingly than HS-V3.
Also thanks to Claypaws for pointing me towards the Fuji UK website as a place where you can buy Fuji's Hyper Utility HS-V3. The cost is currently £70 + £5 P&P, so I don't think I'll bother purchasing it.
As of August 2014 it seems that HS-V3 is no longer available via Fuji's website.