This post is part of a series on our visit to Gyeongbokgung Palace on the third day of our Holiday in Seoul, Korea. If you haven't read the first part, that's here: Korea day 3 pt. 1 - Seoul Metro to Gyeongbokgung Palace.
We walked through Sajeongmun Gate, which is located behind Geunjeongjeon, and I took a pano on the Sajeongjeon side of the gate. The people hanging around by the gate were a tour group of Chinese (if I remember correctly) tourists.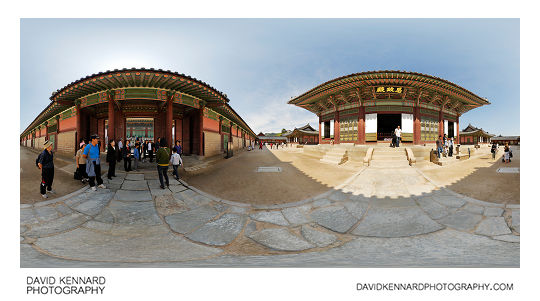 Click here to view 360° VR Panorama
Inside Sajeongjeon is another throne, though much less spectacular than the one in Geunjeongjeon. The King's throne would always have a painting behind it known as 'Irworobongdo' (일월오봉도). The King's throne is positioned in the center of the painting, to symbolize the King's position as the center of a balanced universe. There's a nice big dragon painting above the throne as well. Sajeongjeon was used as the King's official quarters for handling state affairs.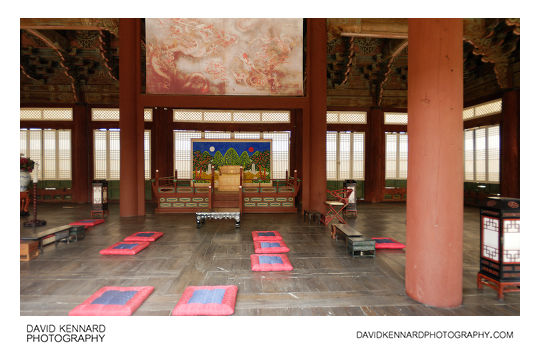 Sajeongjeon didn't have heated floors though, so in the winter the buildings to the left (Cheonchujeon) and right (Manchunjeon) were used instead. Originally they were connected to Sajeongjeon via corridors, but these were removed during the Japanese occupation and have not been rebuilt.
This shot shows inside Cheonchujeon: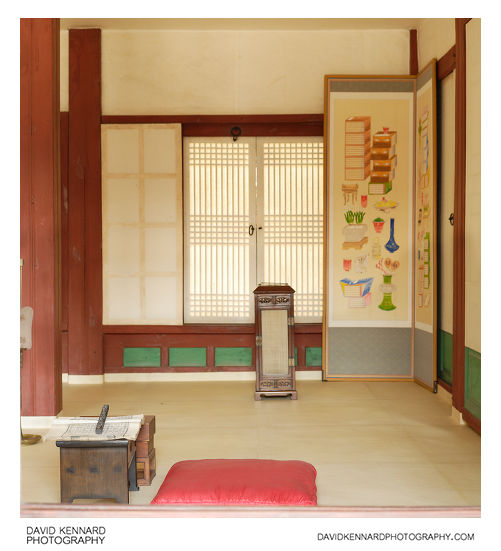 And this is inside Manchunjeon: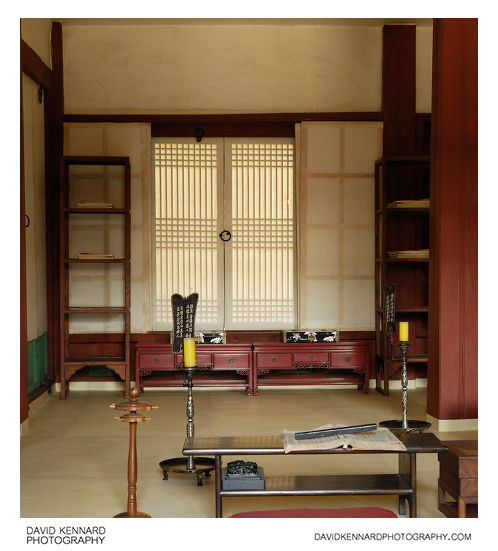 We went on into the next section of the palace, which we entered through the east gate, where I took another pano: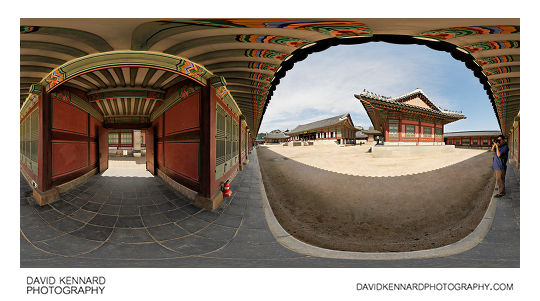 Click here to view 360° VR Panorama
Gangnyeongjeon was the King's living quarters, and is one of the few buildings you can actually enter. I took a pano inside, but didn't bracket my exposures enough to prevent outside the hall being blown out. I'm not sure it would have been possible to make a decent image with outside the hall being exposed properly anyway, it would be extremely difficult given the moving people coming into and leaving the hall.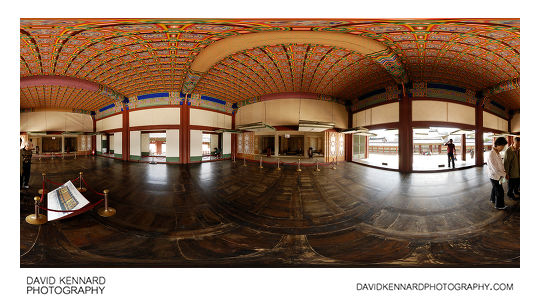 Click here to view 360° VR Panorama
And then I took a pano behind Gangnyeongjeon, between Gangnyeongjeon and Yanguimun gate:

Click here to view 360° VR Panorama