This post is part of a series on our visit to Gyeongbokgung Palace on the third day of our Holiday in Seoul, Korea. If you haven't read the first part, that's here: Korea day 3 pt. 1 - Seoul Metro to Gyeongbokgung Palace.
Inside the Geunjeongjeon compound there are these small stone pillars at regular intervals leading up towards Geunjeongjeon.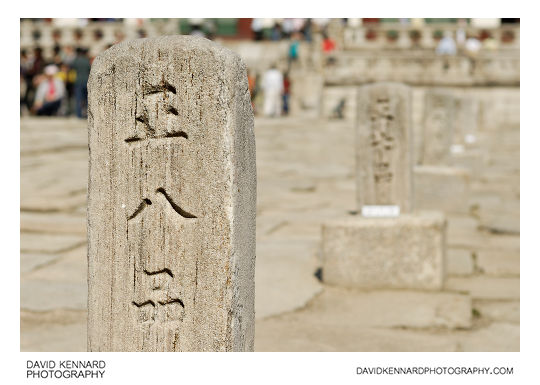 I noticed that they had numbers at the top of them, it turns out that they are 'rank stones'. When official events were held, the Civil Officials would line up according to rank behind the relevant stone. The stone in the image above indicates rank 8.
I took a pano in front of the steps going up to Geunjeongjeon, which was the King's main throne room: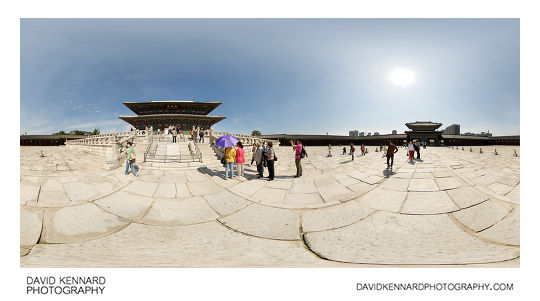 Click here to view 360° VR Panorama
And I took another pano by the corner of Geunjeongjeon: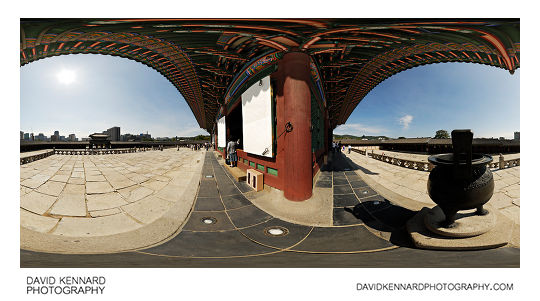 Click here to view 360° VR Panorama
The front entrance to Geunjeongjeon throne room was quite crowded, so I didn't get a photo from that viewpoint, however it was quieter at a side gate, so I took a partial pano of the interior of Geunjeongjeon through there: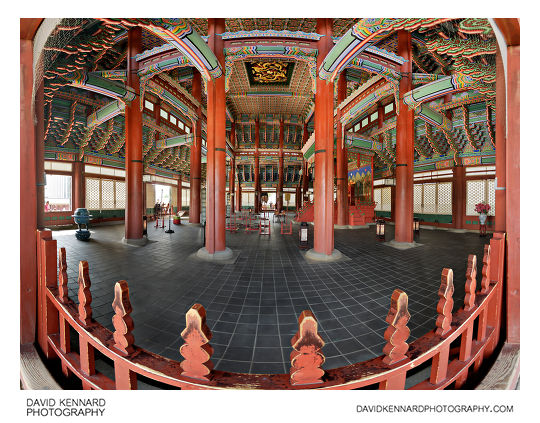 The above image was quite hard to put together though. Although the camera was on the tripod, I didn't spread the tripod's legs out (as people needed to get past), but just held the tripod in place with my hands, so there was a bit of movement/parallax error between the shots. There was a large difference in brightness between the outside of the building and the inside, so I had to use exposure blending on this image.
You can see a 360 VR from inside Geunjeongjeon by Ingemar Bergmark on 360cities.net. I think he must have had special permission to take that pano. He did an excellent job equalizing the exposure between inside the hall and outside.
I also took a photo from the platform that Geunjeongjeon is built on, looking towards Inwangsan Mountain: